Know the product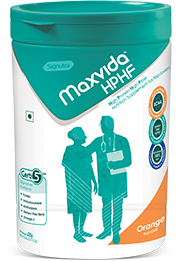 Maxvida® HPHF is a scientifically designed high protein high fiber specialized adult nutrition supplement with 33 nutrients to meet the increased nutritional needs of adults for recovery.
Maxvida® HPHF contains high quality soy protein isolate ( SUPRO ® ) with all essential amino acids~ and a Protein Digestibility Corrected Amino Acid Score (PDCAAS) of 1.
Maxvida® HPHF can also be used as tube feed, only under strict physician's/dietician's directions+

Certi5 TM signature nutrients in Maxvida ® HPHF are:
Protein - Supports wound healing, immune function, maintains lean body mass and helps restore body protein 1,2
Immunonutrients - Vitamin B6, Folic acid, Iron, Vitamin A and Vitamin B12 contributes to the normal function of immune system 3
Antioxidants - Vitamin C, Vitamin E and Selenium contributes to the protection of cells from oxidative stress 4
Dietary Fiber Blend - A blend of FibersolTM, FOS (Fructo-oligosaccharides), Polydextrose & Soy Fiber support improvement of intestinal regularity.
Omega-3 - Anti-inflammatory effects of Omega-3 may help recovery and healing following an injury 5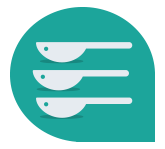 Recommended usage
1 serving (3 levelled scoops or 45g) in 150 ml of water twice a day for adults or as directed by Physician/Certified dietician/Nutritionist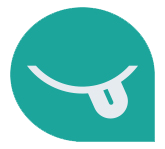 Great Taste
Orange flavour

Available in
Orange flavour (200g & 400g Jar).
1. JPEN J Parenter Enteral Nutr. 2009 May-Jun;33(3):277-316.
2. JOrgen Bauer et al. JAMDA 14 (2013) 542 - 559.
3. EFSA Journal 2009;7(9):1225; EFSA Journal 2009;7(9)1213; EFSA Journal 2009;7(9)1215; EFSA Journal 2009;7(9)1221 and EFSA Journal 2009;7(9):1223.
4. EFSA Journal 2009; 7(9):1226 ; EFSA Journal 2010;8(10)1816 and EFSA Journal 2009; 7(9):1220.
5. Am J Clin Nutr 2009; 90: 415, Effects were seen at EPA plus DNA consumption for positive outcomes. ~Histidine, Isoleucine, Leucine, Lysine, Methionine, Cysteine, Aspartic acid, Threonine, Alanine, Phenylalanine, Tyrosine, Arginine, Tryptophan, Valine. +Based on feasibility study conducted.