Know the product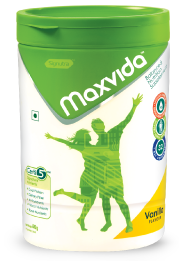 MaxvidaTM is a balanced nutritional supplement that offers 32 key nutrients that cater to adult nutritional needs. MaxvidaTM is crafted with high quality ingredients in just the right amounts to match the local nutrition guidelines.
It supports daily nutrition by providing adequate levels of essential amino acids and complex carbohydrates to help meet adult nutritional needs.
It also contains biotin that contributes to the normal functioning of the nervous system.
It provides high quality proteins with Protein Digestibility Corrected Amino Acid Score (PDCAAS) 1.

Certi5TM signature nutrients in MaxvidaTM are:
Dual Protein - Contains high quality Soy Protein Isolate (SUPRO®) and Milk Protein with all essential amino acids for maintenance of bone and muscle mass 1
Dietary Fiber - Soluble and Insoluble fiber supports bowel movement and helps meet daily fiber needs 4
Antioxidants - Vitamin E, Vitamin C, and Selenium act as free radical scavengers 5
Hemo Nutrients - Iron, Folic acid, Vitamin B12, Vitamin B6, and Riboflavin support normal blood formation 2,3
Bone Nutrients - Calcium, Magnesium, Vitamin K, and Vitamin D support normal bone maintenance 6

View the 360° product shot
Click on the product to zoom in.
Recommended usage
Add 2 levelled scoops (30g) of MaxvidaTM prepared with lukewarm water/milk, twice a day, along with the regular diet for complete nourishment

Available in
Vanilla flavour (200g & 400g Jar).
Chocolate flavour (200g & 400g Jar).
Mango flavour (200g & 400g Jar).
1. Med Sci Spor Exer.2004;36(12):2073-2081
2. EFSA Journal 2009;7(9):1215-1225
3. EFSA Journal 2010:8(10):1814
4. Am J Gastroenterol.2013;108(5):718-727
5. Pharmacogen Rev 2010;4(8):118-126
6. EFSA Journal 2009;7(9):1210-1228